Why Working Moms Shouldn't Feel Guilty
Being a mom is a hard job, especially when you also have to work a full time job outside of the home. As many moms now provide the only or primary source of income for their families, they are spending more and more time away from home and less time with the kids. This leads to women feeling guilty that they cannot spend as much time with their kids as they'd like to and they compare themselves to other women whom they feel are able to balance it all.
All moms deserve recognition for the hard work they do and they should not feel guilty for doing their best to take care of their families. If you've started feeling some of that working mom guilt, here are some things you can do to feel encouraged and do away with the guilt.
Think of your accomplishments
While you're busy every day juggling work and getting kids ready for school and then coming home to cook dinner and help out with homework, you should take pride in all that you are doing for your family. Not only will they grow up being thankful for all that you've done for them, they will also look up to you as a role model. You are setting a great example for your kids and they will feel proud of your accomplishments as well.
Engage with your kids
In those moments when you're at home with your kids, whether it's in the morning before school, or at night before sending them off to bed, make sure to engage with your kids fully. That means not constantly checking your emails or making phone calls and set rules for yourself not to work while you are with your kids. You will feel better and they will be grateful that they have your full and undivided attention.
Find time for yourself
It's hard enough to be able to balance your kids, work, cooking, and cleaning, so it almost seems impossible to find any time for yourself. However, it is important to make time for yourself where you can sit back and relax, even if it is just for a couple of minutes each day while showering and pampering yourself. If you're always multitasking while with your kids, you'll end up feeling stressed out and guilty that they don't have all of your attention. Taking some time to exercise, read a book, or watch some TV can help give you some of the energy you need to be with your kids.
Stop comparing yourself
When we see other moms on TV, or in magazines, or even on Pinterest, we start to feel as though there is a perfect mom that exists who has it all together all of the time. We compare ourselves to this mom and wonder why we can't be like her. The truth is that there is no such thing as a perfect parent. All we can do is try our best and learn every day in order to grow as a parent.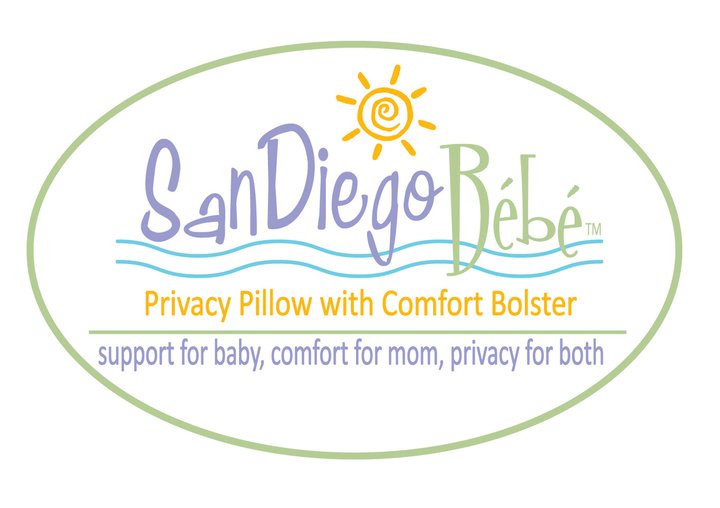 Guest Blog by Sandy Clark, Inventor of San Diego Bebe Eco-Nursing Pillow
San Diego Bebe® was designed by San Diego native Sandy Clark, a passionate breastfeeding advocate and mother of twins. Clark was inspired at a San Diego beach one day where she witnessed a young mother unsuccessfully nursing her baby. As the mother struggled to keep a blanket across her shoulder for privacy while her baby wailed from heat and hunger, Clark vowed then and there to design a product that would help resolve the issue of discretion while nursing in public. San Diego Bebe® was born that day.
After Clark read a recent Duke University study on toxic chemicals in baby products, she sent her nursing pillow to Duke to be tested and reviewed. Duke University Chemical Scientist Dr. Heather Stapleton, the nation's leading fire-retardant research specialist, and a new mother herself, said, "It's wonderful to find a nursing pillow on the market that is not treated with chemical flame-retardant additives in the filling material. San Diego Bebe® Eco-Nursing Pillow is not only a very supportive pillow with amazing features for discreet nursing, but is also free of flame-retardant chemicals that have been shown to cause adverse health effects in animal studies. I applaud this manufacturer for taking steps to produce high quality products that meet the same flammability standards without using these chemicals."
San Diego Bebe® Eco-Nursing Pillow is the healthiest and most innovative nursing pillow on the market. Made with virgin Eco*Loft™ fiber, a non-toxic and hypo-allergenic foam-alternative, it's void of harmful chemicals. It's also recyclable and eco-friendly. San Diego Bebe® is available in two versions, for nursing one baby or twins. The entire line is baby-safe, and is covered with deluxe plush fabrics including organic cotton.
Click to view a Nursing Pillow Comparison Chart to learn more.
Interested in writing a guest blog for oogiebear? Send your topic idea to pr@oogie.com.
All data and information provided on this site is for informational purposes only. oogiebear or myoogie.com makes no representations as to accuracy, completeness, current-ness, suitability, or validity of any information on this site and will not be liable for any errors, omissions, or delays in this information or any losses, injuries, or damages arising from its display or use. All information is provided on an as-is basis.